About Us
Building a Family-friendly Practice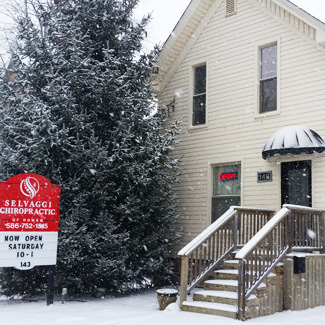 Since 2017, we've always made optimal health and well-being the primary focus of our chiropractic care center.
Selvaggi Chiropractic of Romeo is the former O'Brien Chiropractic, which provided the Romeo and Bruce Twp, and Washington Twp communities with outstanding health care for almost three decades. We're honored that Dr. O'Brien entrusted his beloved practice to us, and promise to continue to serve our community with the same levels of skill, passion and caring.
An Oasis of Help and Comfort
Our office is in a home that was built in 1900. It has a vintage atmosphere with a quaintness that's very appealing. Many patients feel that its environment is conducive to healing; we agree.
We have a simple vision: we want everyone to get a chance to see what chiropractic care can do for them; how it can alter their lives for the better. There are many people struggling today with a variety of health issues—from children to those in their golden years. It's our belief that if more people used chiropractic care as a main source of health optimization, quality of life would improve; good health would become natural and attainable.
That's our vision for you!
We Can Help
Whether you're suffering from back pain and headaches, or have a new baby struggling with colic, we can make a difference. Studies indicate that chiropractic care is the #1 treatment for neck and back conditions, and the American Medical Association agrees with this conclusion.
We love families and take great joy in seeing our patients living lives of abundant health and vitality. Why not contact us today for a same-day appointment? We accept insurance and also have Saturday hours available.
MEET DR. SELVAGGI »

About Selvaggi Chiropractic of Romeo | (586) 752-1515